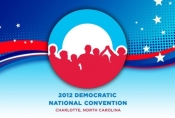 Following last week's Republican National Convention (RNC), the Democrats now take a turn in the national spotlight this week convening in Charlotte, North Carolina. The broadcast outlets will mirror the RNC in terms of the big network coverage, cable channels and C-SPAN's gavel-to-gavel coverage.
Networks: ABC, CBS – 1 hour of prime time Tuesday to Thursday begining at 10pm eastern
The broadcast exception is NBC which, on Wednesday, will air the NFL season opening game instead of convention coverage. (Go Cowboys!) On Tuesday and Thursday, NBC will air 1 hour from 10pm eastern along with the other networks.
Cable News: Coverage beginning in the afternoons covering most of the evening speakers and all the prime time speakers
C-SPAN will be covering the convention in entirety including the Monday session which will consist solely of committee meetings and administrative proceedings for the DNC.
Report from Naples News:
If the fate of the nation is truly this year's political football, what will America be watching on television Wednesday night — Bill Clinton in Charlotte, N.C., or Eli Manning in East Rutherford, N.J.?

The North Carolina banking center is hosting the Democratic National Convention from Tuesday through Thursday, with the former president slated as the prime-time speaker Wednesday. But as the relevance of political conventions has waned, some are wondering if Clinton will top the Giants' quarterback and NFL season opener Wednesday night against the Dallas Cowboys.

President Barack Obama and Vice President Joseph Biden will accept their party's nominations Thursday evening in prime time. NBC is skipping the convention Wednesday in favor of the football game.

"I don't think there's much there," Larry J. Sabato, director of the Center for Politics at the University of Virginia, who has attended every convention since 1976, said of the convention as a news event.
I have yet to find a complete speaking schedule for the week but once I find it, consider it posted. Leave a link in the comments if you find a complete weekly schedule for the DNC.