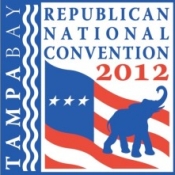 The 2012 Republican National Convention will be held in Tampa, Florida the week of August 27th. Find all the details you'll need below.
Video Archive:: C-SPAN RNC Archive
Schedule: RNC Convention Schedule
Location: Tampa Bay Times Forum in Tampa, Florida (formerly called the St Pete Times Forum)
Dates: August 27-30, 2012
Official Convention Website: 2012 GOP Convention
Press release on the convention from the 2012 GOP Convention:
TAMPA – It will be a grand old party in Tampa when August of 2012 rolls around.

The Republican Party today selected Tampa to host its next presidential nominating convention, an event that will attract as many as 40,000 visitors and potentially provide an economic boost in excess of $100 million.

The convention is scheduled to take place the week of August 27, 2012.

Dignitaries, including Mayor Pam Iorio and developer Al Austin, who has led the effort, received the news by telephone. They gathered in the 21st-floor offices of Tampa Bay & Company, which markets the area to tourists and conventioneers.

Cheers let out as an ordinary office speakerphone reverberated the extraordinary news.

"We are very, very proud for the selection and we're really looking forward to being with you," RNC Chairman Michael Steele told the room. "We're excited and ready to get to work on what we know will be one of the best conventions we've ever had."

The wait was anxious, after all Tampa was unsuccessful in two previous attempts to land both the 2004 and 2008 conventions.