Airing tonight at 8pm ET/5pm PT is the Western Republican Presidential Debate live from Las Vegas, Nevada. The debate is sponsored by CNN and the Western Republican Leadership Conference. Tonight's broadcast will feature seven GOP candidates since Jon Huntsman has chosen not to attend this time around.
Air Time: Tuesday, October 18th at 8pm ET, 5pm PT on CNN – Submit Questions
Live Feed: CNN.com
Participants: Bachmann, Cain, Gingrich, Paul, Perry, Romney, Santorum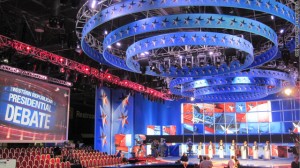 Report from NewsOnNews:
The debate, which will air live from 8 p.m. to 10 p.m. (ET), will be broadcast from The Venetian Resort Hotel Casino in Las Vegas, Nevada. Voters from the 16 states and territories that make up the Western region of the United States will be in the audience and will have an opportunity to pose questions directly to the candidates.

Nevada will be one of the first states to vote in the Republican presidential primary process in 2012, as chosen by the Republican National Committee.

The following seven presidential contenders will participate in the debate: Minnesota Rep. Michele Bachmann, businessman Herman Cain, former House Speaker Newt Gingrich, Texas Rep. Ron Paul, Texas Gov. Rick Perry, former Massachusetts Gov. Mitt Romney and former Pennsylvania Sen. Rick Santorum.
Former Utah Governor Jon Huntsman was invited to this debate, however, he has decided not to attend. The Washington Post reports more extensively on Huntsman's current situation:
Jon M. Huntsman Jr. is running out of time. And money. Dead last in some polls and deep in debt, Huntsman, who has been serious, then a jokester, then the civility candidate, then the hatchet man, now has a new role: New Hampshire's Number One Primary Champion.

Now Huntsman is taking another stand for New Hampshire: The former diplomat is skipping Tuesday night's Nevada debate among the Republican presidential candidates.

Huntsman doesn't really have a choice but to stick all of his apples in the New Hampshire basket.

If he loses badly in the first-in-the-nation primary, where he reached 10 percent in one recent poll and where he moved his campaign headquarters, his struggling GOP presidential candidacy would likely end.
This will leave us seven candidates on stage later tonight meaning each candidate will get another minute or two on average to speak. Not something we're going to notice I'm sure.