With the third 2020 Democratic primary debate set for Thursday, Sept. 12, ABC News has now released the final details including the podium order for the 10 candidates on stage. As expected, former vice president Joe Biden and Sen. Elizabeth Warren will be center-stage, flanked by Sen. Bernie Sanders, and Sen. Kamala Harris, respectively. The three-hour affair kicks off at 8 pm ET (5 pm PT) on Thursday evening live on ABC.
ABC News Democratic Primary Debate
When: Thursday, September 12, 2019
Time: 8 pm ET (7 pm CT, 6 pm MT, 5 pm PT)
Location: Texas Southern University in Houston, Texas
Moderators: George Stephanopoulos, David Muir, Linsey Davis, and Jorge Ramos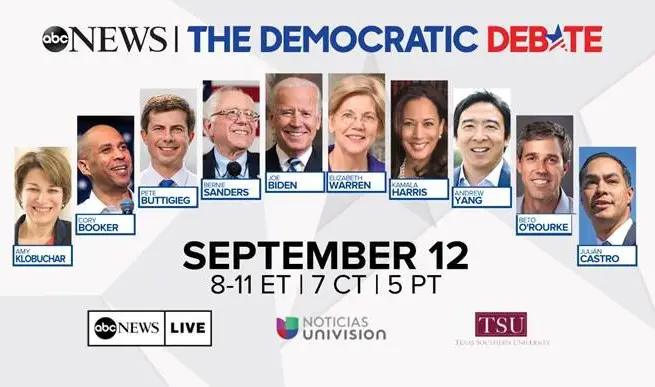 The stage will be set up in this order, from left to right:
Sen. Amy Klobuchar
Sen. Cory Booker
Mayor Pete Buttigieg
Sen. Bernie Sanders
Former VP Joe Biden
Sen. Elizabeth Warren
Sen. Kamala Harris
Businessman Andrew Yang
Former Rep. Beto O'Rourke
Former Hud Secretary Julian Castro
Here is the video announcement from ABC News:
As expected, Biden is wedged in between Elizabeth Warren and Bernie Sanders, a liberal sandwich with a moderate filling. This is the first time these top contenders are all on the stage together, and it's about time we get to see them on the same night rather than staggered on different nights.
New Lines Of Attack?
One of the questions moving forward is where Sen. Kamala Harris will choose to aim her attacks. She tried and failed to knock down Joe Biden a few pegs, though her poll numbers did temporarily spike following the first debate. After the second debate, her numbers continued to tank. Will she work to resurrect her criticism of Biden or does she believe that Elizabeth Warren is now her intended target?
Standing to the right of Bernie Sanders is Pete Buttigieg, another candidate who has taken his shots in a measured tone, trying to appear less aggressive and more centered in his answers and posture. If he truly is ready to break out from the field, he's going to need more than his polished songbook of reasoned responses to hot-button issues, he's going to need to convince voters that he's able to fight for ground and push back on his opponents.
Then there's Bernie Sanders, the democratic socialist standing to Biden's right. His true opponent, at this point, is Warren, not Biden. Bernie is never going to appeal to the vast majority of Bdein backers, but he does seem to be hemorrhaging support to Elizabeth Warren. If he doesn't appear to be more reasoned or perhaps more detailed in his policy proposals, as well as realistic, he's going to continue this slow downward trend.
Biden has got his work cut out for him, or so it would seem. He managed his way through two debates with lackluster performances and a laundry list of attacks from other candidates. None of it seemed to hurt his poll numbers or his base level of support. At this point, if Biden makes it through the September debate and October debate without losing substantial support, what's left for his opponents to attack? He's been making campaign gaffes on the trail, but he's built up a Teflon skin when it comes to voters giving him a pass.
How Can I Watch?
The Sept. 12 debate will be broadcast on your local ABC station, locally on KTRK in Houston, and on ABCNews.com. Univision will air a Spanish translation. The debate will also be on streaming on Hulu Live, the Roku Channel, Facebook Watch, AppleTV, Amazon Fire TV, Youtube, Apple News, and Twitter.
We will also have the live stream embed from ABC News via YouTube available for viewing directly on our site.