In case you missed the first night of the Democratic debate Wednesday, you can watch the full video now available from NBC. The next ten candidates will take the stage tonight in Miami to complete the first Democratic debate of the 2020 Democratic primary. The event is being split over two nights to accommodate the large field of candidates.
Related: Full Video of Night 1 Democratic Debate
A total of twenty debate slots were allotted by the Democratic National Committee with the field divided over two consecutive primetime broadcasts on back-to-back nights, June 26 and June 27. Tonight is the second night of the debate with big names such as Joe Biden, Bernie Sanders, Pete Buttigieg, and Kamala Harris on stage.
The debate is broadcasting live from the Arsht Center in downtown Miami, Florida. A panel of five moderators will ask the questions over both nights.
Debate live stream (June 27)
The first night of the NBC live stream begins at 7:30 p.m. ET and is embedded below courtesy of NBC News:
Candidates (From left to right on stage): Marianne Williamson, John Hickenlooper, Andrew Yang, Pete Buttigieg, Joe Biden, Bernie Sanders, Kamala Harris, Kirsten Gillibrand, Michael Bennet, Eric Swalwell
Moderators: Savannah Guthrie, Lester Holt, Chuck Todd, Rachel Maddow, and José Diaz-Balart
Spanish stream: Telemundo
What time does the debate start?
Night 2: Thursday, June 27, 2019
9 pm ET (6 pm PT, 7 pm MT, 8 pm CT)
Where can I watch the first Democratic debate?
According to NBC, the first democratic debate will be broadcast on NBC, MSNBC, and Telemundo. This means that you'll be able to watch the debate on your local NBC station, or on the MSNBC cable channel, or simulcast in Spanish on Telemundo. The debate will air live across all three networks on both nights.
The debate will also be live streamed from NBC via YouTube with the video embedded above.
Which candidates will be in the first Democratic debate?
Here is the list of candidates for both nights of the debate.
Night 2 – June 27 (Thursday)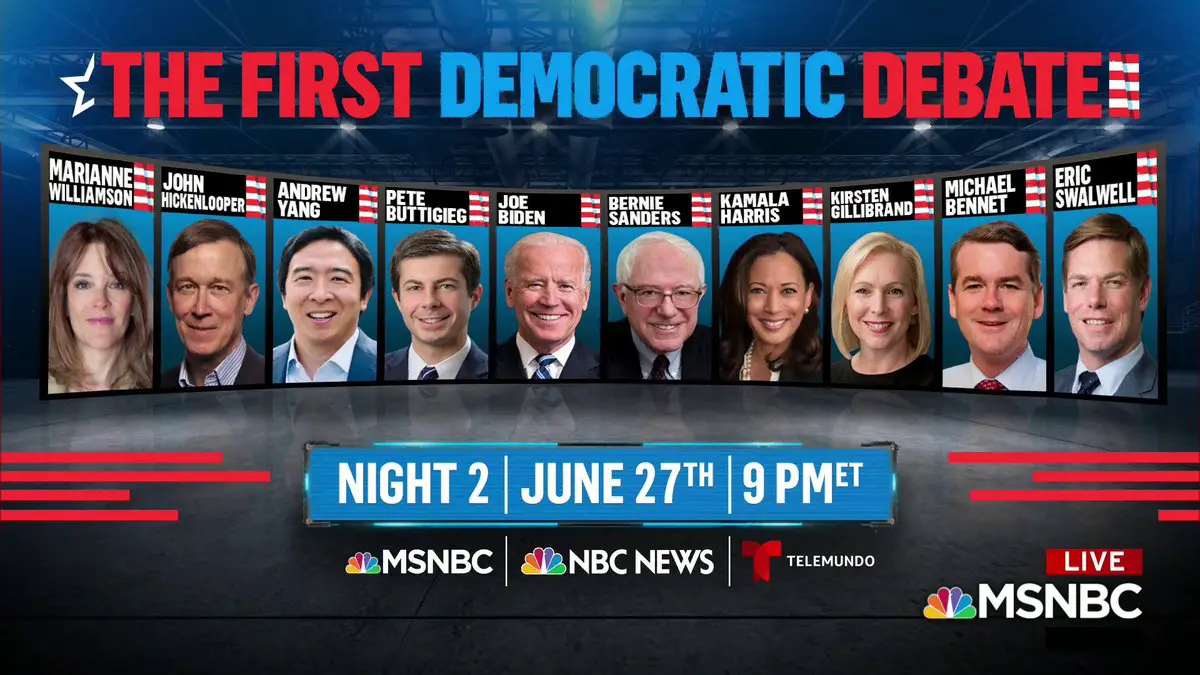 Michael Bennet, senator from Colorado
Joseph R. Biden Jr., former vice president
Pete Buttigieg, mayor of South Bend, Ind.
Kirsten Gillibrand, senator from New York
Kamala Harris, senator from California
John Hickenlooper, former governor of Colorado
Bernie Sanders, senator from Vermont
Eric Swalwell, representative from California
Marianne Williamson, self-help author
Andrew Yang, former tech executive
Night 1 – June 26 (Wednesday)
The full video from night 1 is available here.
Cory Booker, senator from New Jersey
Julián Castro, former housing secretary
Bill de Blasio, mayor of New York
John Delaney, former representative from Maryland
Tulsi Gabbard, representative from Hawaii
Jay Inslee, governor of Washington
Amy Klobuchar, senator from Minnesota
Beto O'Rourke, former representative from Texas
Tim Ryan, representative from Ohio
Elizabeth Warren, senator from Massachusetts
Who will moderate the first Democratic debate?
The team of moderators will be a panel of five.
Lester Holt, anchor of "NBC Nightly News with Lester Holt" and "Dateline NBC"
Savannah Guthrie, co-anchor of "TODAY" and NBC News chief legal analyst
Chuck Todd, moderator of "Meet the Press with Chuck Todd" and NBC News political director
Rachel Maddow, host of "The Rachel Maddow Show" on MSNBC
José Díaz-Balart, anchor of "Noticias Telemundo" and "NBC Nightly News Saturday"
Where can I find the latest Democratic debate information?
As always, bookmark our page dedicated to keeping up with the 2020 Democratic Primary Debate schedule. There you will always find the latest most up-to-date information about all you need to know for the Democratic primary debates.