During the 2016 campaign, Donald Trump first claimed he wanted to release his tax returns, and planned to do so before the vote last November. Then, shortly after making that vow, he reversed course and said he couldn't release his returns because they were under routine audit. As the IRS and others have made clear, an audit does not prevent one from releasing returns publicly if one should so choose.
Since it's Tax Day today, what about Trump's 2016 returns that have been newly filed? Any chance we'll be seeing those? Not any time soon, according to White House Press Secretary Sean Spicer:
Despite protests across the country over the weekend demanding the release of President Donald Trump's tax returns, the White House is still citing an ongoing audit to explain why the documents can't be made public.

"It's the same thing that was discussed during the campaign: The president is under audit," White House Press Secretary Spicer said Monday when asked if Trump would release his 2016 returns. The IRS deadline for Americans to file is Tuesday.

Spicer didn't comment on whether Trump would authorize the IRS to confirm that he's under audit, and what years that audit pertains to.

It's not just that his net worth and more than 500 partnerships make him a likely audit target under IRS policies designed to direct its enforcement efforts to the richest taxpayers. Under an obscure Internal Revenue Service rule, the tax returns of the president and vice president are automatically audited, every year, no exceptions. [Emphasis added]

That rule has been in place in one form or another since the Nixon administration, and it details the process for auditing presidential tax returns in minute detail — even down the color of folder they must be kept in.
And what about those protests over Trump's tax returns? Whether they're spontaneous gatherings or some kind of organized effort, recent polling shows that a majority of registered voters would still like to see Trump's return, according to Time:
The majority of American voters still want President Donald Trump to release his tax returns — but less so than before he was elected.

A new Bloomberg/Morning Consult poll found 53% of voters say Trump should be forced to release his tax returns, and 51% say Trump's taxes are either very or somewhat important to them. Additionally, 45% say Trump's taxes are relevant to his job in the White House.

The Bloomberg/Morning Consult poll surveyed 2,353 registered voters over a two-day period in early April.
The numbers can be deceiving, however, since while most people would like to see Trump's returns released, polling before the election found that most people don't list it as a big concern considering all that is going on in the world. Trump often stated that, in his opinion, voters didn't care about his tax returns, only reporters did. Back during the campaign, he was correct, according to what the voters considered important to them. Consider this report from September 21, 2016, in the Washington Post:
When people are asked to rank what concerns them most about Trump, his refusal to release his taxes is way, way down the list.
Before the election, there were many other things that were of concern to voters about Donald Trump which pushed concern over his tax returns way down the list. It has been tradition for Presidential candidates to release their returns, and it's fairly obvious that Trump doesn't want to release his returns because they will be picked apart and ridiculed in the media and elsewhere.
Some states are taking it upon themselves to force the release of his returns by passing various laws which would require presidential candidates to release their returns before their name can appear on the ballot. Report on this from the Huffington Post:
Democratic New York state Sen. Brad Hoylman introduced the first legislation to make Trump disclose his tax returns to get on the 2020 New York state ballot. His bill ? the Tax Returns Uniformly Made Public, or TRUMP ? would require all presidential and vice presidential candidates to release the past five years of their taxes 60 days prior to the election. If a candidate failed to meet this requirement, they would be excluded from the ballot.

"We thought, given the barriers in Washington, that states could take up the effort to require presidential and vice presidential candidates to release their taxes in order to qualify for the ballot," Hoylman told The Huffington Post.

He added, "Ballot qualifications are a time-honored responsibility of states, and at the same time, the current president had broken with over four decades of political tradition."

Lawmakers in another 25 states have introduced nearly identical legislation since Hoylman first released his bill in December. These include Democratic strongholds and states Trump won.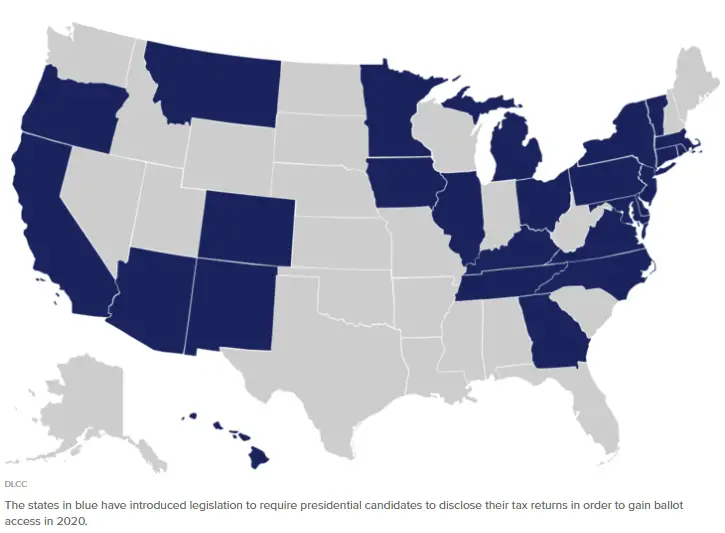 Whether any of these bills will become law or even hold up in court is another matter, but clearly the push to see Trump's tax returns isn't going away anytime soon, and may well be an issue running into the 2020 Presidential Election as well.