The official lineup for the January 14 Fox Business Republican debate has been released and the primetime broadcast has now been cut down to just seven candidates. Rand Paul and Carly Fiorina have been relegated to the undercard debate with Mike Huckabee and Rick Santorum. The rest are all appearing in the primetime debate starting at 9pm ET.
Thursday, January 14, 2016
Fox Business Republican Debate
Live Stream: FoxBusiness.com (free)
Location: North Charleston Coliseum in North Charleston, South Carolina
Primetime Debate
9pm ET (8pm CT, 6pm PT)
Moderators: Maria Bartiromo and Neil Cavuto
Candidates: Trump, Cruz, Rubio, Carson, Christie, Bush, Kasich
Undercard Debate
6pm ET (5pm CT, 3pm PT)
Moderators: Trish Regan and Sandra Smith
Candidates: Paul*, Fiorina, Huckabee, Santorum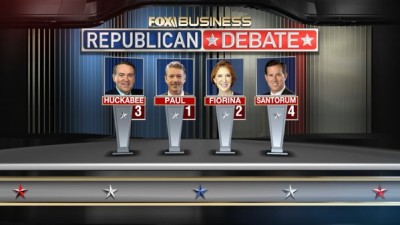 *Rand Paul has said he is not participating in the debate unless he is given access to the primetime debate stage.
Report from Fox Business:
The FOX Business Network has announced the candidate lineups for the two Republican primary debates it will host on Thursday, January 14.

The 9 p.m. ET debate will feature real estate mogul Donald Trump; Texas Senator Ted Cruz; Florida Senator Marco Rubio; retired neurosurgeon Ben Carson; New Jersey Governor Chris Christie; former Florida Governor Jeb Bush; and Ohio Governor John Kasich.

The 6 p.m. ET debate roster includes Kentucky Senator Rand Paul, former HP (HPQ) CEO Carly Fiorina, former Arkansas Governor Mike Huckabee; and former Pennsylvania Senator Rick Santorum.

Anchor/Managing Editor of Business News, Neil Cavuto and Anchor/Global Markets Editor, Maria Bartiromo will reprise their roles as moderators for the primetime debate, while the earlier debate will again be moderated by anchors Trish Regan and Sandra Smith.
The big news here is the absence of Rand Paul and, to a lesser extent, Carly Fiorina from the main stage. Paul is just barely shy of making the primetime cut based on state polling but didn't make the grade based on the rules set several weeks ago by Fox Business. As a result, Paul has now stated that he plans to skip the debate.
Report from CNN:
Rand Paul will boycott Thursday night's Republican primary debate in South Carolina after being relegated from the main stage, he said on Monday.

"I won't participate in anything that's not first tier because we have a first tier campaign," the Kentucky senator told CNN's Wolf Blitzer.

Paul's announcement came moments before Fox Business Network, the sponsor of Thursday's debate, announced that just seven candidates had qualified for the main stage. Those candidates are Donald Trump, Ben Carson, Ted Cruz, Marco Rubio, Chris Christie, Jeb Bush and John Kasich.

Both Paul and Carly Fiorina, who appeared on the main stage in last month's CNN debate, were relegated to the undercard round, along with Rick Santorum and Mike Huckabee, according to the network.
This could be a mistake for Paul given that he would have much more speaking time and a greater opportunity to present his case than he would during the muddled primetime broadcast. I'm wondering whether he will change his mind and decide to join the undercard debate for the extra face time of being among just three other candidates.