A newly released poll from The Iowa Republican (TIR) conducted a couple weeks ago now shows a two-way battle for first place between former Massachusetts Governor Mitt Romney and Minnesota Congresswoman Michele Bachmann. Other names such as Herman Cain and Tim Pawlenty aren't even breaking double-digits according to TIR:
Minnesota Congresswoman Michele Bachmann has surpassed former Massachusetts Governor Mitt Romney in a recent Iowa poll that was conducted by TheIowaRepublican.com. With Bachmann now leading in Iowa, Romney has fallen to second place, but he is still well ahead of third place finisher Tim Pawlenty, who has overtaken Herman Cain my a miniscule margin.

Bachmann received support from 25 percent of likely Iowa caucus goers in the poll, while Romney is backed by 21 percent. The poll also shows signs of growth for former Minnesota Governor Tim Pawlenty, who now stands in third place in statistical tie with Herman Cain at just under nine percent. Ron Paul finished with six percent, Newt Gingrich with four percent, Rick Santorum with two percent, and Jon Huntsman rounded out the field with one percent.
The full results shake out like this: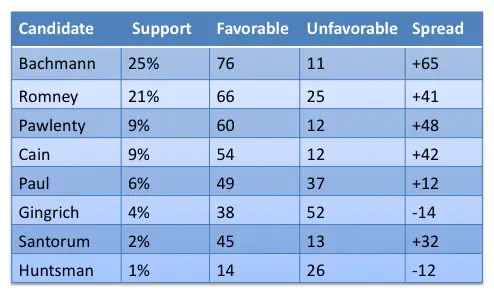 This is fantastic news for Bachmann and even decent news for Tim Pawlenty who had been struggling the past several weeks in Iowa. Romney hasn't been counting on Iowa in his campaign strategy but I'm certain that if he loses, he'd like to take at least second place and not by a blow out heading into New Hampshire.